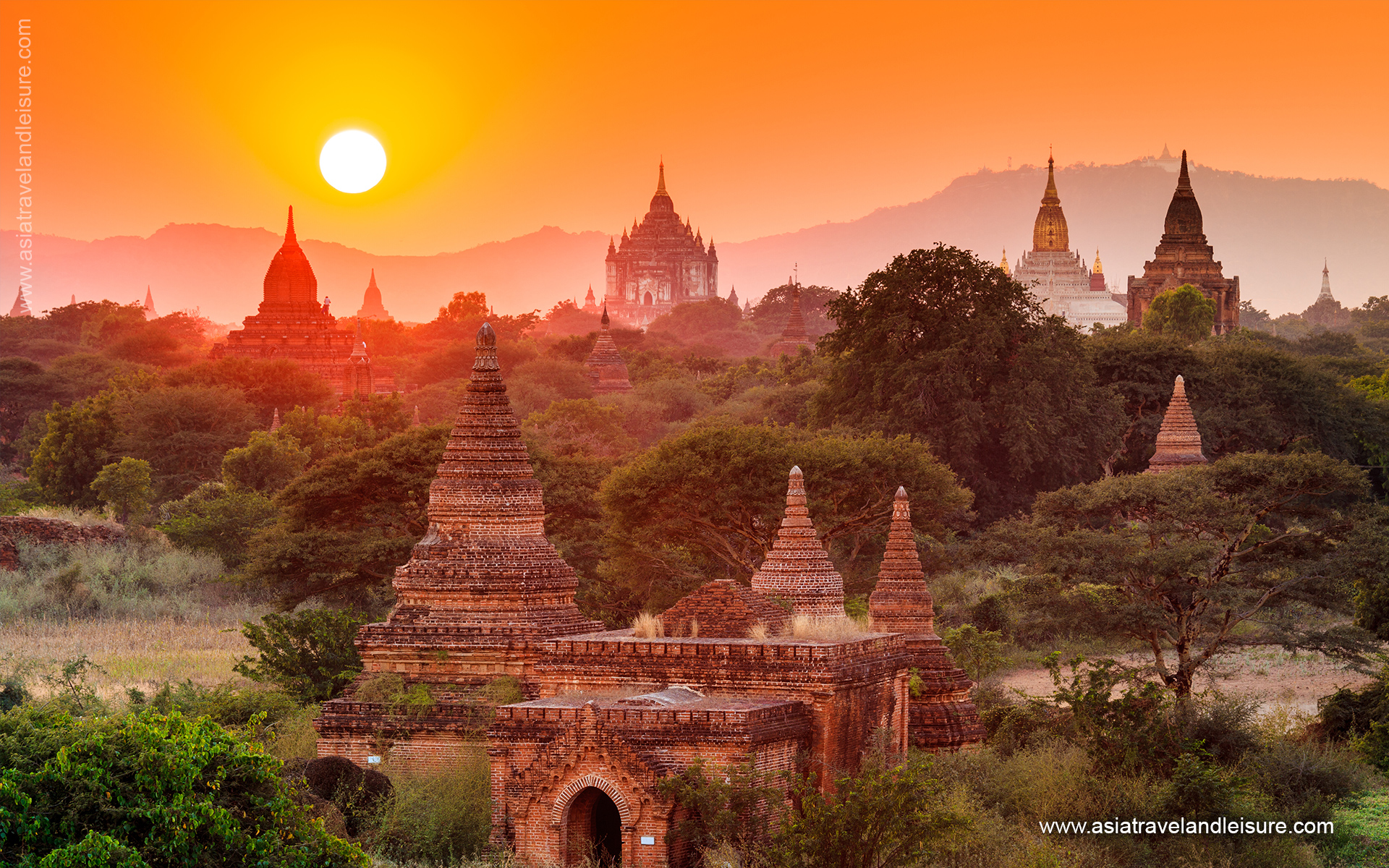 The Best Of
Myanmar - Indochina,
This
Indochina Adventure
combines the hidden charm of
Vietnam
, the golden land of Myanmar, the tranquility of Laos and the mystical treasures of Angkor in Cambodia with a unique opportunity to experience the natural beauty and traditional lifestyle found throughout the Mekong Delta... The tour is flexible, you can start in Vientiane (Laos) and end in Yangon (Myanmar) or vice versa.
Start city: Vientiane
End city: Yangon
Duration: 27 Days & 26 Nights
Departure: Private Tour. Daily, upon your request.
Cities to visit: Vientiane - Luang Prabang - Hanoi - Ha Long Bay - Hoi An - Hue - Saigon - Mekong - Phnom Penh - Siem Reap - Mandalay - Bagan - Inle Lake - Yangon
- Extendable with optional tours from Vientiane and from Yangon
Note: This private tour requires minimum of 2 passengers to operate
Prices are quoted in US Dollars per person, double occupancy.
Visit one of the most quiet country, Laos with the capital Vientiane & Heritage City Luang Prabang
Travel along Vietnam through various Heritage Sites: Ha Long Bay, Ancinet Hoi An Town, Hue Imperial City
Explore the rich culture and lush fluvial landscape in Mekong delta
Get impressed with the magnificent Angkor Temples
Admire the unspoiled mystical Golden Land, Myanmar
Day 1: Vientiane Arrival
Welcome to Vientiane, the country's charming capital, with its laidback riverside ambience, and alluring monuments. On your arrival, you will be welcomed by local tour guide of Myanmar Tours and get transferred to the hotel.
In the afternoon, enjoy an orientation walk around the hotel area followed with a leisure relax time at a café on the river side where you could view the sun sink over the Mekong.
Welcome dinner in a fine restaurant.
Meals: Dinner
Accommodations: Hotel in Vientiane
Day 2: Vientiane City Tour
Today we have a full day to explore Vientiane – one of the classic Indo Chinese cities which conjure up exotic images, with its intriguing mix of Lao, Thai, Chinese, Vietnamese, French, American and Soviet influences. Our visit will take you to the key sites: National Museum, Wat Sisaket the city 's oldest surviving temple with thousands of silver and porcelain images in the gloriously authentic temple compound that offers you a glimpse into the Vientiane of the past, the next stop is Haw Phra Kaeo. This large temple is beautiful both interior and exterior, it was built to house the famed Emerald Buddha in courtyards filled with frangipani trees.
In the afternoon a stop at the older part of Morning market is recommended before the visit Pha That Luang. The giant golden stupa is a sight to see as the bright gold holds a sharp contrast to the pure blue sky. Next you will go to climb the Arc De Triomphe of Laos, Patuxai. The massive arch has a beautiful mosaic tiled ceiling and once at the top you can see for miles around Vientiane.
Meals: Breakfast
Accommodations: Hotel in Vientiane
Day 3: Vientiane – Fly to Luang Prabang
Leave Vientiane for a short in-country flight to Luang Prabang. The rest of the day, enjoy guided city visit of the Heritage city. We first visit The Royal Palace, official name "Haw Kham" which was built in 1904 during the French colonial era for King Sisavang Vong and his family.
Our next stop is to Wat Xiengthong, once known as "The Temple of the Golden City". It's the most historic and enchanting Buddhist monastery in the entire country.
Continue to Wat Mai before ascending the 328 steps to the top of Phou Si Mountain that offers a stunning panoramic view of the surrounding rivers and cityscape before wandering through the bustling Night Market for traditional textiles and handicrafts made by the hill tribes.
Meals: Breakfast
Accommodations: Hotel in Luang Prabang
Day 4: Luang Prabang – Kuang Si Waterfall
After breakfast at your hotel, our guide will take you to a craft living center. Meaning "east meets west", Ock Pop Tok brings the fascinating world of traditional Lao handicrafts alive for visitors. The beautiful Living Crafts Centre overlooking the Mekong, set in a tropical Mekong garden it serves as a resource center for learning about textiles, crafts and culture. Then you will visit the morning Phosi Market where you will see such diverse offerings as dried buffalo skin, local tea and saltpeter among the chickens, vegetables and hill-tribe weavings.
Laos is also known for its traditional crafts, and today you will visit the Ban Ouay, Hmong Hill tribe and Ban Ou, Lowland Lao. Continue driving to the beautiful Kuang Si Waterfall where you can splash around in the pools or walk along the forest paths, return to Luang Prabang and rest of the time at leisure.
Meals: Breakfast
Accommodations: Hotel in Luang Prabang
Day 5: Pak Ou Caves – Luang Prabang – fly to Hanoi
Begin the day taking a morning cruise along the Mekong River, about two hours upstream from the centre of Luang Prabang, and discover the numerous Buddha images at Pak Ou Caves. Pak Ou (mouth of the Ou River), the Tham Ting (lower cave) and the Tham Theung (upper cave) are caves overlooking the founder name Mekong River. They are a group of caves on the right side of the Mekong River. It is then only a short distance from the caves to the village of Ban Xang Hai. We'll stop here to learn about Lau Lao (Lao whisky) and Lau Hai (Lao wine), before continuing down the Mekong to Luang Prabang.
Back to city centre for relaxation before getting transferred to the airport for late afternoon flight to Hanoi.
Meals: Breakfast
Accommodations: Hotel in Hanoi
Day 6: Hanoi City Tour
Today is a full day to explore Vietnam's charming capital. Start with a visit to the Temple of Literature, which is well known as the first university of Vietnam. Follow it with one of the city's museums (a choice between the History Museum and the Ethnology Museum) before your lunch (on your account).
In the afternoon, transfer to the Ba Dinh Square where stands the Mausoleum of President Ho Chi Minh who led Vietnam to independence from French colonial rule. This site has become an important city landmark and a perfect place to learn more about Vietnam's rich history. From there, wander through the beautiful surrounding gardens toward the One Pillar Pagoda and Presidential Palace, where a replica of Ho Chi Minh's simple working space is on display.
Later, hop on a cyclo, one of the most typical vehicles in Hanoi, is a human-powered transport with a seat at the front for passengers and the driver at the back. With this an hour leisurely ride, which is perfect chance for photos and slow-moving sightseeing, you will have a great chance to have the local closer touch, the remaining French Cononical architectures & buscling Old Quarter.
Conclude the day with a traditional Water Puppet Performance – a unique Vietnamese Art form hailing from Southeast Asia's wet-rice culture.
Meal: Breakfast
Accommodation: Hotel in Hanoi
Day 7: Hanoi – Halong Bay– Overnight on cruise.
Breakfast at your hotel before setting out on a 3 to 4 hour drive to the UNESCO World Heritage Site: Halong Bay. Spend 24 hours on a traditional Junk Cruise in the amazing bay: a natural wonderland composed of jutting limestone islands and sparkling turquoise waters. Arrive at the dock around noon and board your junk. Savor a gourmet lunch of fresh seafood onboard as we sail out into the mystical bay. In the afternoon, cruise around some of Halong's many islands, including Dinh Huong and Ga Choi. Along the way visit one of the bay's 3 largest caves (Thien Cung, Dau Go or Sung Sot). Stop at an island cove with a sheltered white-sand beach and take a dip in the warm waters of the Tonkin Gulf (weather permitting). Pass the night on your junk, lulled to sleep by the gentle rocking of calm waters.
Meals: Breakfast, Lunch & Dinner.
Accommodation: on cruise.
Day 8: Halong Bay – Hanoi – Fly to Da Nang – Hoi An
Awake early and participate in Tai Chi on the top deck or simply relax and enjoy the sunrise over the bay's towering islands. Enjoy a morning cup of coffee or tea, before setting out to explore nearby islands by rowboat. Return to the junk for breakfast then take advantage of the sundeck and admire the amazing rock formations of Bai Tu Long Bay as we navigate back to Halong City. Have brunch on board the boat before returning to Halong pier. Your driver will meet you at the dock and take you to Noi Bai Airport of Hanoi for your in-country flight to Hue. Upon arrival, your guide and driver will meet you and take you to your hotel.
Meals: Brunch.
Accommodation: Hotel in Hoi An
Day 9: Hoi An cooking class – Visit Ancient Town
From the 16th to 18th centuries, Hoi An was a thriving international commercial port for Chinese, Dutch, French, Japanese, Portuguese and Arab traders. These people came primarily to trade in the high grade silk, which is still produced in the area, as well as ceramics. Today, Hoi An is a quaint riverside town, popular with tourists for its eclectic architecture, tailors shops, and numerous cafes. Some of the buildings in the narrow streets have remained unchanged for more than a century
Have breakfast in the morning and our guide will take you to the ancient town of Hoi An and visit the local market.
We have the cooking class in "Cau Do" or Red Bridge Restaurant.
Afternoon, take the walking tour to explore Hoi An town. We will visit Hoi An museum, Old merchants' house, Assembly hall, Japanese covered bridge. Walk along the bank of the lively Thu Bon River, once prosperous and famous as a trading port.
Meal: Breakfast, lunch
Accommodation: Hotel in Hoi An
Day 10: Hoi An free at leisure. Drive to Hue
You are free at leisure in the morning.
Leave Hoi An in afternoon, drive northward to Hue over the 500m high Hai Van pass. From top of the pass, on nice days, you can enjoy the whole vista of Da Nang, the Tien Sa seaport, Son Tra Peninsula, Cham island and long sandy beaches. A stop at scenic beach of Lang Co for a drink before proceeds to Hue
Meals: Breakfast
Accommodations: Hotel in Hue
Day 11: Hue city tour
After breakfast, discover Imperial Citadel from where the Nguyen Dynasty ruled between 1802 and 1945 including Flag Tower, Noon Gate, Nine Dynastic Urns, Nine Holy…
Our city tour continues with a visit to the elaborate tombs of emperors Tu Duc & Khai Dinh. Your tour guide will give you a deep understanding about King's philosophy of geomancy and how this affected royal life.
Late afternoon, we take a short boat trip to visit Thien Mu Pagoda situated by Perfume River.
Meals: Breakfast
Accommodations: Hotel in Hue
Day 12: Hue – fly to Saigon. City tour
Have breakfast at the hotel then drive to the airport to catch your flight to Vietnam's modern metropolis: Saigon (Ho Chi Minh City). Arrive in the late morning and enjoy an orientation tour through Ho Chi Minh City's bustling streets en route to the hotel. Have lunch at a downtown restaurant of your choosing then set out on a guided city tour. You will visit such sites as the Reunification Palace, the War Remnants Museum, Notre Dame Cathedral, the City Post Office and Ben Thanh Market. Enjoy the rest of the day at your leisure.
Meals: Breakfast.
Accommodation: Hotel in Saigon.
Day 13: Saigon – Cu Chi Tunnels – Tay Ninh.
After breakfast at hotel, you travel outside of Saigon to visit the Cu Chi Tunnels. The Cu Chi Tunnels are an underground labyrinth of passageways, used by the Viet Cong during the Vietnam War (or "American War" as it's referred to here) as protection against American air raids. Those inclined are invited to crawl through selections of the tunnels to better understand what life was like for the Vietnamese soldiers during wartime. Next you will visit the beautiful Cao Dai Temple in Tay Ninh and partake in the noontime prayer service. This large and colorful compound is home to the hybrid religion founded in the 1920s: Caodaism, which combines elements of Buddhism, Confucianism, Hinduism, Christianity and Islam in order to promote peace. Have lunch in Tay Ninh and return to Saigon in the late afternoon.
Meals: Breakfast.
Accommodation: Hotel in Saigon.
Day 14: Saigon – Cai Be – Vinh Long – Chau Doc
Today you leave Saigon and travel to the Mekong River Delta. Enjoy an early breakfast at the hotel before driving to the riverside town, Cai Be. Along the way, stop at a candy factory and orchard garden, where you have an opportunity to listen to traditional music. Enjoy a relaxing lunch at a riverside restaurant, then cross the Mekong's calm waters on a rustic row boat to visit an island in the middle of the river delta. Spend time exploring the small islands and rural way of life. Your driver will be waiting for you on the other side of the river to take you to Chau Doc – a small town near border of Cambodia. Check in at your hotel then spend the late afternoon on an orientation walk around the small town.
Meals: Breakfast, Lunch.
Accommodation: Hotel in Chau Doc.
Day 15: Chau Doc – Phnom Penh by speed boat.
After breakfast, check-out the hotel then travel by speedboat up the Mekong to Cambodia's capital: Phnom Penh. The total trip takes about four and a half hours (including visa formalities). Visas are easily obtained at the border between Vietnam and Cambodia and cost (including the processing fee). Your guide will meet you at the dock in Phnom Penh and take you to the hotel.
Despite its recent turbulent history, Phnom Penh's wide tree-lined boulevards and faded colonial mansions hold an undeniable charm. Afternoon, we will visit the Tuol Sleng Prison Museum and the notorious 'Killing Fields' of Choeung Ek. A visit to these sights provides a deep insight into the painful bloody rule of the Khmer Rouge.
Meals: Breakfast.
Accommodation: Hotel in Phnom Penh.
Day 16: Phnom Penh – drive to Siem Reap.
Breakfast ast your hotel and take a leisurely tour to visit National Museum, the Royal Palace – home to the royal family and the opulent silver pagoda.
Afternoon, take 4,5 – 5 hour drive to Siem Reap. Check in your hotel and rest of the time is at leisure.
Meals: Breakfast
Accommodation: Hotel in Siem Reap
Day 17: Full day temple exploration
After breakfast at the hotel your day starts with visiting South Gate of Angkor Thom, with its majestic doors, monumental temple of Bayon facing the tropical forest and Baphuon and Phimeanakas Mountains. Later, visit the Elephant Terrace, Terrace of the Leper King and Takeo "Jewel of Crystal", which is dedicated to the Hindu God Shiva and was erected at the end of the 10th century.
You won't miss Ta Prohm Temple, which is a wonderful combination of human genius and natural beauty with its giant trees that have grown there for centuries.
Take a nice drive to Banteay Srei, home to Angkor's finest stone carvings then to Banteay Samre and followed by Preah Khan (Sacred Sword): one of Angkor's largest temples, constructed in the 12th century by Jayavarman VII.
Later climb to the summit of Pre Rup Temple to view the sunset over the paddy fields.
Meals: Breakfast
Accommodation: Hotel in Siem Reap
Day 18: Angkor Wat at sunrise & Tonle Sap Lake
Wake before dawn and take a tuk-tuk ride to visit the magnificent Angkor Wat the largest Khmer temple and finest example of Angkorian art and architecture.
Angkor Wat, the UNESCO World Heritage Site, which was constructed by Suryavarman II who reigned Cambodia from 1113 to 1152 and built the five towers in the 12th century and dedicated them to the Hindu God Vishnu. The plan of the pyramidal conception of the temple combined with spaces, alleys and ditches is an ancient masterpiece of architectural design and construction.
Back to your hotel for breakfast and relax.
In the afternoon, drive to Cambodia's largest natural water reservoir, Tonle Sap Lake.
Here you will embark on a cruise across the Great Tonle Sap Lake to the stilted houses and flooded forest of Kompong Phluk. Upon arrival, change to small rowing boat and travel along the mangrove forest and through the stilted houses of the floating villages.
During wet season, this area will be completely submerged, whilst in the dry season, the stilted houses will tower up to six meters above.
After your visit to the school and the pagoda in the center of the village, return to your motorized boat to travel back to the pier. Relax on your boat while enjoying the sunset on the lake.
Transfer back to your hotel late afternoon.
Meals: Breakfast
Accommodation: Hotel in Siem Reap
Day 19: Siem Reap – Fly to Mandalay
Get transferred to the airport for your flight to Mandalay, with a stopover in Bangkok.
Our local tour guide will meet you at the airport and take you to your hotel for check-in.
After short refreshment, take a tour of Shwenandaw Monastery - noted for its exquisite wood carvings, and Kuthodaw Pagoda - known as the world's biggest book. Conclude the day by visiting Mandalay Hill to watch the sun-set and the panoramic view of the city.
Meals: Breakfast
Accommodation: Hotel in Mandalay
Day 20: Mingun – Ava – Ubein Bridge
In the morning, drive to to Mingun, home to several unique pagodas, including the ruined Mingun Pahtodawgyi—the remains of a massive unfinished Buddhist stupa begun by King Bodawpaya in 1790. Continue by ferry to Inwa (Ava), situated on the banks of the Irrawaddy River. Once a royal capital, Inwa is now a quiet rural oasis. Enjoy a horse cart ride around the peaceful countryside, visiting Bagaya Kyaung, a beautiful teak wood monastery, Maha Aungmyay Bonzan Kyaung, and Nan Myint tower.
End of the day, walk over Ubein Wooden Bridge, the longest teakwood of its type & enjoy great sunset view here.
Meals: Breakfast
Accommodation: Hotel in Mandalay
Day 21: Mandalay – Bagan by day boat with R.V Panorama.
Leave the hotel early in the morning to board the Day Cruise downstream the Irrawaddy River to Bagan.
The cruise starts at 06:30 and is scheduled to arrive Bagan at 17:30. With a stop along the way, it is a good way to discover Myanmar.
Get picked up upon arrival in Bagan.
Meals: Breakfast
Accommodation: Hotel in Bagan
Day 22: Bagan Sightseeing
After breakfast, start temple exploration with a visit to Shwezigone pagoda, which is believed to enshrine a bone and tooth of Gautama Buddha to Ananda, Sulamani Temple.
Continue Minkaba Gubyaukyi temple, experience the architectural difference in MyaZedi pagoda before heading to Manuha Temple.
This afternoon, enjoy an exotic horse cart ride to one of the biggest temple in Bagan: Nan Paya Pagoda and many other interesting sites nearby. The highlight of today is the panoramic sunset view from one of the highest pagoda of Bagan.
Meals: Breakfast
Accommodation: Hotel in Bagan
Day 23: Bagan – Mt. Popa – Bagan
After breakfast, enjoy a scenic drive to Mt. Popa, known as the most sacred site for meditation in Myanmar. Our guide will lead you to Popa Kalat Monastery where you can enjoy the panoramic view of Popa National Park.
On the way back to Bagan, we will experience the traditional palm work, cigar making and peanut oil distillation.
Meals: Breakfast
Accommodation: Hotel in Bagan
Day 24: Bagan - fly to Heho – Inle Lake
Get transferred to the airport for a short flight to Heho.
Upon arrival, meet our tour guide and driver for a nice drive to Naung Shwe where you will embark on a relaxing boat ride to your resort.
Inle Lake, the second largest lake in Myanmar, located 900m above sea level and is home to unique one leg rower Intha people. After short refreshment, we visit the Phaungdawoo Pagoda, famed for its richly gilded five small Buddha images, also is believed the holiest in Inle Lake. As you travel further to Nam Pan village; cotton and lotus weaving factory, cigar making houses will impress you with a sense of traditional Intha life.
Plenty of chances for photograph of one leg rowing fishermen, floating gardens, stilted houses… & sunset on the lake.
Meals: Breakfast
Accommodation: Hotel in Inle Lake
Day 25: Inle Lake sightseeing by boat
This morning, you will visit the 5-Day Market that is held in different villages surrounding the lake. This is definitely a fascinating place to enjoy the scene of local tribes in their colorful clothes and exotic market atmosphere.
Continue our sightseeing visit to beautiful temple of Indein, located on the hill overlooking the lake. It will be definitely relaxing to walk along the corridor and enjoy the giant columns which have been left to the nature for centuries.
Free for the rest of the day.
Meal: Breakfast
Accommodation: Hotel in Inle Lake
Day 26: Inle Lake – Heho – Yangon. City tour
Take the morning flight to Yangon and explore the most bustling city of Myanmar, Yangon.
Start your visit with the visit to Sule Pagoda. It is believed to enshrine a strand of hair of the Buddha.
From Sule Pagoda, we embark on an orientation walk to Chinese Town, covering exotic streets of Yangon downtown and British Colonial building as Emmanuel Church, Inland Water Buildings.
End of the day, visit to Shwedagon pagoda – the most prominent monument in Yangon which dominates the sky with golden flash, giant spires and holy relics.
Meals: Breakfast
Accommodation: Hotel in Yangon
Day 27: Yangon departure
You are free at leisure until getting transferred to the airport for the departure flight. Trip ends. Have a good journey home and see you again.
Meal: Breakfast.
Accommodation: N/A
Accommodation with daily breakfast at selected hotels
7 Domestic & regional flights
Private tours, transfers and all services as mentioned in the itinerary
Services of a private driver and air-conditioned vehicles
Service of English speaking guides in every location
Entrance fees for all mentioned sights visited
Meals as mentioned in the itinerary
International flights
Meals other than those mentioned in the itinerary
Early check-in and late check-out at hotels
Personal expenses (such as laundry, telephone, drinks, etc.)
Tips for guides and drivers
Personal travel insurance
Myanmar Visa fees (more at www.myanmartours.com/visa.html)
Did you know? All of our tours are private and daily depart. Myanmar Tours can organize any additional accommodations, domestic and regional flights.
Call us on 0084 914 787 986 to speak to one of our experts.