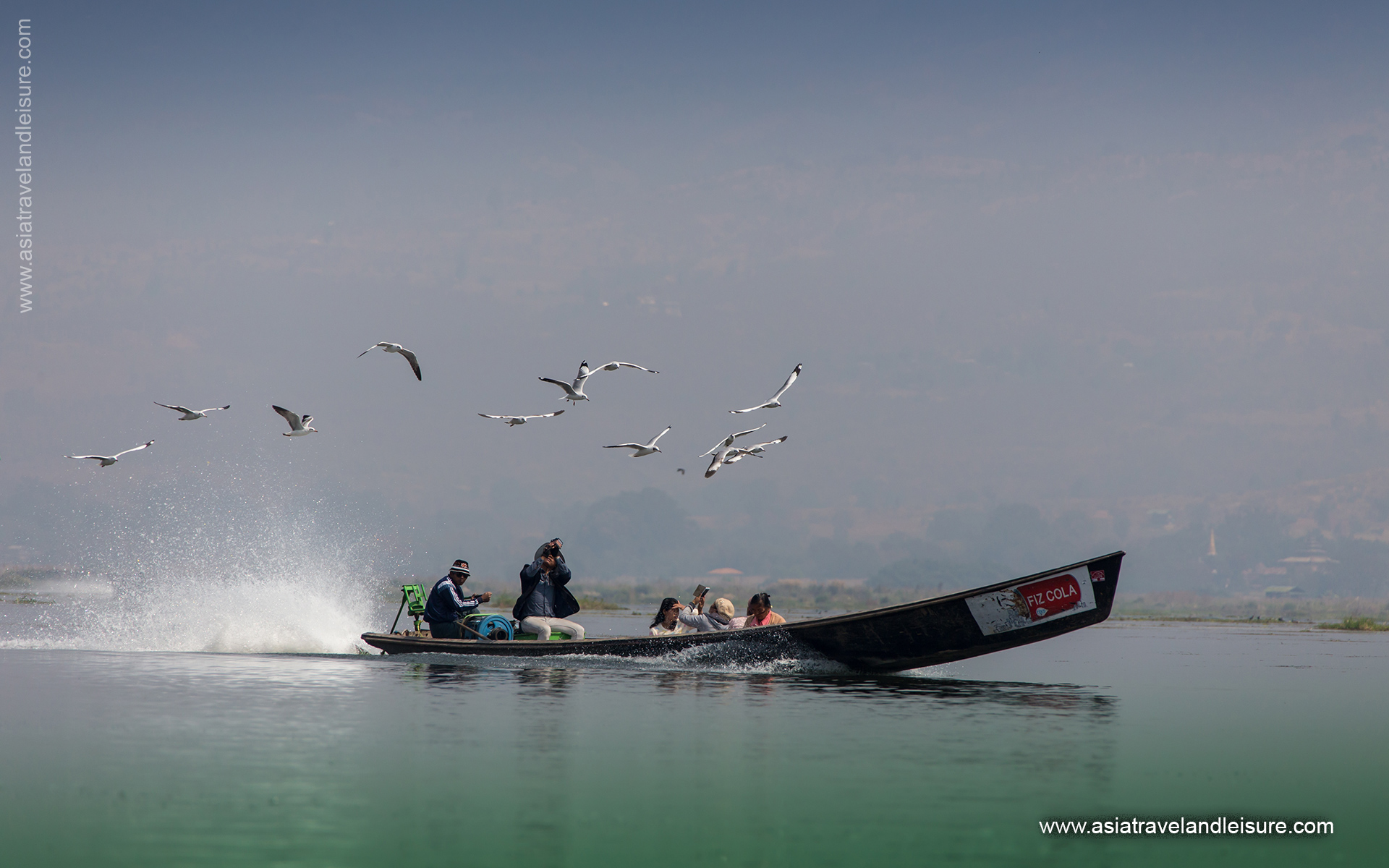 Myanmar Bird Watching Tour
, Being famous with a truly amazing historical site, Myanmar is also known as a bird land that offering chances to observe different bird species in wild nature. This trip brings you through Hlawga national park and continue with Bagan lush nature, observing birds in Mt. Victoria and Inle lake region. Our Myanmar birding tours are a truly one of a kind experience not to be missed!
Start city: Yangon
End city: Yangon
Duration: 10 Days - 9 Nights
Departure: Private Tour. Daily, upon your request.
Cities to visit: Yangon, Hlawga Wildlife Park, Bagan, Mt Victoria, Inle Lake, Yangon
- Extendable with optional tours from Yangon
Note: This private tour requires minimum of 2 passengers to operate
Prices are quoted in US Dollars per person, double occupancy.
Offering chances to observe different bird species in wild nature
Admire the most sacred pagoda in Myanmar, Golden Shwedagon Paya
Enjoy fine dining with Burmese food and amazing cultural show
Discover authentic locals' life and amazing ruins of Indein Pagoda and Samkar Village
Explore thousand temples & pagoda scattering around Bagan
Day 1: Yangon arrival - half day tour
Our tour guide & driver will welcome you at the airport and transfer you to your hotel.
Begin your first Myanmar visit to Shwedagon pagoda – the most prominent monument in Yangon which dominates the sky with golden flash, giant spires and holy relics.
Your highlight for this evening is the dinner in Karaweik Palace, overlooking to the Royal Lake and Shwedagon tower. The dinner is served with fine Burmese food and amazing cultural show.
Meals: Welcome Dinner. Accommodations: Hotel in Yangon
Day 2: Hlawga Wildlife Park - bird watching
In the morning, we will drive to Hlawga Wildlife Park to do bird watching. It is located 40km from Yangon. Here we will be able to see the rare Pale-capped Pigeon, Racket-tailed Treepie, Red Junglefow. Late afternoon we will drive back to Yangon. Overnight will be at hotel in Yangon.
Meal: Breakfast Accommodation: Hotel in Yangon
Day 3: Yangon - Fly to Bagan - sightseeing
Leave Yangon for Bagan.
Today you will start exploring Bagan with a visit to local market Nyaung Oo Market, for a dose of local life and culture. Come to Shwezigone pagoda, which is believed to enshrine a bone and tooth of Gautama Buddha. Next to Wetkyi village – Wetkyi In Gubyaukgy temple. Going to Ananda, Sulamani Temple.
This afternoon, visit to one of the biggest temple in Bagan: Nan Paya pagoda and many other interesting sites nearby. The highlight of today is the panoramic sunset view from one of the highest pagoda or temple in Bagan.
Meals: BreakfastAccommodations: Hotel in Bagan
Day 4: Bagan – Mt. Victoria
Drive from Bagan to Natmataung National Park (Mt. Victoria). Birding stop on the way to see again Jerdon's Minivet and Hooded Treepie, together with near-endemic White-rumped Falcon, White-eyed Buzzard, various species of Woodpeckers, five species of Parakeet which are Alexandrine, Rose-ringed, Blossom-headed, Grey-headed and Red-breasted Parakeets, Small, Scarlet and Rosy Minivets, Chestnut-bellied Nuthatch and others.
Meals: BreakfastAccommodations: Hotel in Mindat
Day 5: Natmataung National Park - bird watching
Birding at Natmataung (Mt. Victoria) National Park. This site is a major focal point of the tour. Here we can able to see White- browed Nuthatch and Burmese Tit (recently split from Black-browed Tit), Myanmar's fifth and sixth endemics which are known only in here. Other speciality birds that could be seen on this area are near-endemics - Mount Victoria Babax (recently split from Chinese Babax).
Meals: BreakfastAccommodations: Hotel in Mindat
Day 6: Mindat - Bagan
Drive back to Bagan, take round 8 hours.
Meals: BreakfastAccommodations: Hotel in Bagan
Day 7: Bagan - Fly to Heho - Indein - Floating Gardens
Leave Bagan for a short flight to Heho.
Get picked up on arrival and transfer to Naung Shwe Jetty for a relax boat ride to your resort. After refreshment, the boat will take you to beautiful temple of Indein, located on the hill overlooking the lake. It will be definitely relaxing to walk along the corridor and enjoy the giant columns which have been left to the nature for centuries. Continue with the sightseeing to Phaungdawoo Pagoda, famous for its richly gilded five small Buddha images, also is believed the holiest in
Inle Lake
; Ngaphechaung monastery. As you go further to Nam Pan village; cotton and lotus weaving factory, cigar making houses will attract your sense of traditional Intha life.
Meals: BreakfastAccommodations: Hotel in Inle Lake
Day 8: Inle Lake - Inle Wetland Wildlife Sanctuary - bird watching
Spend the whole day for bird watching. Our guide and boat driver are with you.
Meals: BreakfastAccommodations: Hotel in Inle Lake
Day 9: Red Mountain Vineyard - Fly to Yangon
Go east for 12 km, turn right at sign "Red Mountain Vineyards". The Red Mountain winery is a popular place for wine tasting - most people are pleasantly surprised. Red Mountain Estate vineyard in the hills for some wine tasting. One of only two vineyards in Myanmar, this definitely breaks the mould of your day-to-day Myanmar experience, making it suddenly feel as if you have been transplanted to the south of France. You can try the tasting menu (featuring wines from four different types of grape) whilst taking in the stunning sunset views over the lake. Transfer to airport for flight to Yangon.
Meals: BreakfastAccommodations: Hotel in Inle Lake
Day 10: Yangon departure
You are free time till our driver transfers you to the airport for departure flight.
Meal: BreakfastAccommodations: N/A
Flights: Yangon - Bagan – Heho – Yangon
Accommodation with daily breakfast at selected hotels
Private tours, transfers and all services as mentioned in the itinerary
Services of a private driver and air-conditioned vehicles
Service of English speaking guides in every location
Entrance fees for all mentioned sights visited
Meals as mentioned in the itinerary
Did you know? All of our tours are private and daily depart. Myanmar Tours can organize any additional accommodations, domestic and regional flights.
Call us on 0084 914 787 986 to speak to one of our experts.